Sv translation
The Ink Tool has three major functions:
Ink Manager
Ink Mix
Image Channel mapping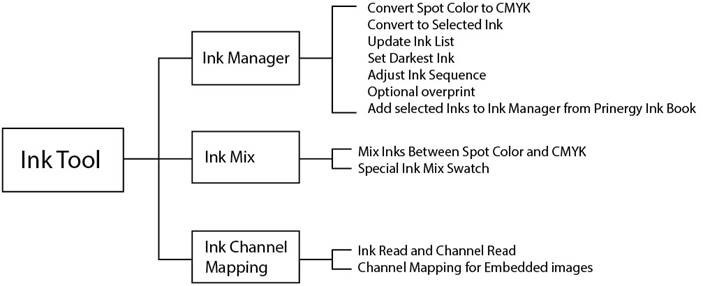 Ink Manager functions
Update Ink List

Ink Manager displays the Color Sequence order, the Ink Name, and the Ink Type and Knockout state used for trapping.

Press the Update Ink List icon at the bottom of the Ink Manager dialog box to read and display all inks in the current document, and make them available as a resource for other Prinergy Tools functions, such as Trap Color Sequence, Marks, Ink Mix, and Image Channel Mapping.

Auto Ink Sequence: Automatically defines the sequence of inks from lightest to darkest or from darkest to lightest, based on the color's neutral density value, and will determine how normal inks trap into each other (lightest into darkest). Operators can also adjust ink sequence by selecting a color and using the Up or Down arrows in the Ink Manager pallet to change ink order.
Darkest Mark: Defines the darkest ink in the current ink list (new sentence) This is useful for setting the color to be used by specific marks for maximum contrast.
Convert to CMYK: Press the Convert to CMYK icon at the bottom of the Ink Manager pallet to convert a selected Spot Color to CMYK.
Convert All Spots Colors to CMYK: Use the Convert all Spot Color Inks to CMYK from the pull-down menu from the upper right corner of the Ink Manager to convert all spot inks in the document.
Convert to: Map one link to another link.
Prinergy Ink Book: Provides PANTONE Coated and Uncoated libraries and the DIC color library.
Knockout: The Knockout checkbox allows you to selectively knock out individual CMYK channels or spot inks from below an overprinting object.
Ink Mix functions
Allows you to adjust the component inks and ink percentages of a selected object. Allows you to create combination colors containing both CMYK and spot inks (N-color). Ink Mix is supported for flat tint and gradient objects but not images.

Add to Swatch and Ink Mix Swatch: Prinergy Tools allows you to save a mixed ink to the Ink Mix Swatch pallet for future use.
Image Channel Mapping functions
Allows you to map one ink channel to another in an embedded image, without having to open and edit the image in PhotoShop.

When you select an embedded image, its ink channels will be listed in the Image Channel Mapping dialog box after updating the Ink list.

Remove a specific ink channel in an embedded image.
Ink Manager Limitations
Ink Manager cannot read RGB inks.
Ink Manager cannot read the inks of hidden objects / hidden layers or objects on not-printed layers.
Spot inks in images cannot be converted to process inks.
Multi-color text, special effects and linked image are not supported ink conversion
3D special effect objects can have ink channels mapped to 0%.
Mesh, Live Paint groups, Image data, 3D special effect objects are not supported for spot ink conversions.
The function "Keep spot ink in blend" currently supports only simple blend objects, i.e. blend objects formed by two color blocks with only one fill for each or with only one stroke for each. The function cannot be applied to other types of complicated blend objects like blend objects.
For Ink Mix, if multi-appearance exists at the same ink, the top ink will be read.

Ink Mix only supports objects selected with the Selection or Direct Select tool.

DCS image can't be embedded in an Illustrator file, so it is not supported in image channel mapping.
Sv translation
Das Druckfarben-Werkzeug hat drei Hauptfunktionen:
Druckfarbenmanager
Druckfarbenmischung
Bildkanalzuordnung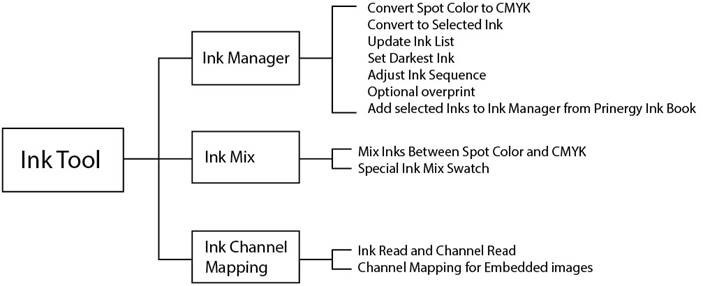 Druckfarbenmanager-Funktionen
Druckfarbenliste aktualisieren

Druckfarbenmanager zeigt die Farbsequenz, den Druckfarbennamen sowie den für Überfüllung verwendet Druckfarbentyp und Ausstanzstatus an.

Drücken Sie auf das Symbol "Druckfarbenliste aktualisieren" unten im Dialogfeld "Druckfarbenmanager", um alle Druckfarben im aktuellen Dokument zu lesen und anzuzeigen, damit sie als Ressource für andere Prinergy Tools-Funktionen verfügbar sind, z. B. Überfüllungsfarbsequenz, Marken, Druckfarbenmischung und Bildkanalzuordnung.

Automatische Farbenreihenfolge: Legt automatisch die Reihenfolge der Druckfarben von der hellsten bis zur dunkelsten oder von der dunkelsten bis zur hellsten Druckfarbe auf Grundlage ihres neutralen Dichtewerts fest und bestimmt, wie normale Druckfarben einander überfüllen (die hellsten in die dunkelste). Außerdem können Bediener die Druckfarbenfolge anpassen, indem sie eine Farbe auswählen und den Aufwärts- oder Abwärts-Pfeil in der Druckfarbenmanager-Palette verwenden, um die Druckfarbenfolge zu ändern.
Dunkelste Marke: Legt die dunkelste Druckfarbe in der aktuellen Druckfarbenliste fest. Dies ist nützlich, wenn die von bestimmten Marken verwendete Farbe auf maximalen Kontrast eingestellt werden soll.
In CMYK konvertieren: Drücken Sie auf das Symbol "In CMYK konvertieren" unten in der Druckfarbenmanager-Palette, um eine ausgewählte Sonderfarbe in CMYK zu konvertieren.
Alle Sonderfarben in CMYK konvertieren: Verwenden Sie die Option "Alle Sonderfarben in CMYK konvertieren" aus dem Pulldown-Menü in der oberen rechten Ecke des Druckfarbenmanagers, um alle Sonderfarben im Dokument zu konvertieren.
Konvertieren in: Ordnen Sie einen Link einem anderen Link zu.
Prinergy Ink Book: Bietet die PANTONE-Bibliotheken Coated und Uncoated sowie die DIC-Farbbibliothek.
Auskopieren: Mit dem Kontrollkästchen "Ausstanzen" können Sie einzelne CMYK-Kanäle oder Sonderdruckfarben von unterhalb eines Überdruckobjekts ausstanzen.
Druckfarben-Mischfunktionen
Ermöglicht die Anpassung der Komponentendruckfarben und Druckfarbenprozentwerte eines ausgewählten Objekts. Ermöglicht das Erstellen von Kombinationsfarben, die sowohl CMYK- als auch Sonderdruckfarben (N-Farbe) enthalten. Druckfarbenmischung unterstützt einfarbige Flächen und Farbverlaufsobjekte, aber keine Bilder.

Zu Farbmuster und Druckfarbenmischmuster hinzufügen: Mit Prinergy Tools können Sie eine gemischte Druckfarbe in der Druckfarbenmischmuster-Palette für die spätere Verwendung speichern.
Bildkanalzuordnungs-Funktionen
Ermöglicht das Zuordnen eines Druckfarbenkanals zu einem anderen in einem eingebetteten Bild, ohne das Bild in PhotoShop öffnen und bearbeiten zu müssen.

Wenn Sie ein eingebettetes Bild auswählen, werden die Druckfarbenkanäle nach Aktualisierung der Druckfarbenliste im Dialogfeld "Bildkanalzuordnung" aufgelistet.

Entfernen Sie einen bestimmten Druckfarbenkanal in einem eingebetteten Bild.
Druckfarbenmanager-Einschränkungen
Druckfarbenmanager kann keine RGB-Druckfarben lesen.
Druckfarbenmanager kann die Druckfarben von ausgeblendeten Objekten/Ebenen oder Objekten auf nicht gedruckten Ebenen nicht lesen.
Sonderdruckfarben in Bildern können nicht in Prozessdruckfarben konvertiert werden.
Mehrfarbiger Text, Spezialeffekte und verknüpfte Bilder werden nicht von der Druckfarbenkonvertierung unterstützt.
Objekte mit 3D-Spezialeffekten können Druckfarbenkanäle besitzen, denen 0 % zugeordnet ist.
Raster, LivePaint-Gruppen, Bilddaten und Objekte mit 3D-Spezialeffekten werden von der Sonderfarbenkonvertierung nicht unterstützt.
Die Funktion "Sonderdruckfarbe in Übergang beibehalten" unterstützt derzeit nur einfache Übergangsobjekte, d. h. Übergangsobjekte, die von zwei Farbblöcken gebildet werden, wobei jeder Farbblock nur jeweils eine einzige Füllung oder einen einzigen Strich enthält. Die Funktion kann nicht auf andere Arten von komplizierten Übergangsobjekten angewendet werden.
Wenn dieselbe Druckfarbe mehrmals in der Druckfarbenmischung vorhanden ist, wird die oberste Druckfarbe gelesen.

Die Druckfarbenmischung unterstützt nur Objekte, die mit dem Auswahl- oder dem Direktauswahl-Werkzeug ausgewählt wurden.

Da ein DCS-Bild nicht in einer Illustrator-Datei eingebettet werden kann, wird es von der Bildkanalzuordnung nicht unterstützt.
Sv translation
L'outil Encre possède trois fonctions principales :
Gestionnaire d'encre
Mélange d'encres
Mappage de canal d'image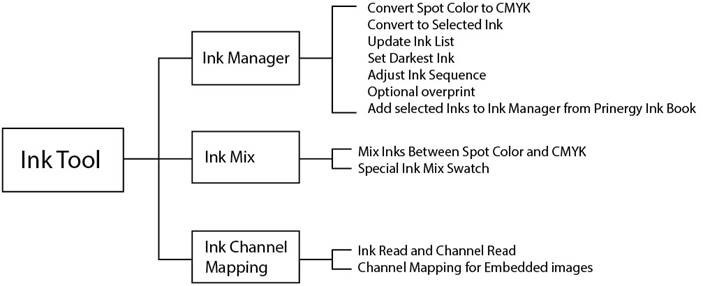 Fonctions du gestionnaire d'encre
Mettre à jour la liste d'encre

Le gestionnaire d'encre affiche l'ordre de la séquence de couleur, le nom de l'encre, le type d'encre et l'état de la défonce utilisé pour le recouvrement.

Appuyez sur l'icône Mettre à jour la liste des encres en bas de la boîte de dialogue du Gestionnaire d'encre pour lire et afficher toutes les encres du document actuel et rendez les disponibles en tant que ressource pour les autres fonctions Outils Prinergy, telles que la Séquence de la couleur de recouvrement, les Repères, le Mélange d'encres et le Mappage de canal d'image.

Séquence d'encre auto : Définit automatiquement la séquence d'encrage de la plus claire à la plus sombre ou de la plus sombre à la plus claire en fonction de la valeur de densité neutre de la couleur et détermine comment les encres normales se recouvriront les unes les autres (de la plus claire à la plus sombre). Les opérateurs peuvent également ajuster la séquence d'encre en sélectionnant une couleur et en utilisant les flèches du haut et du bas dans la palette du Gestionnaire d'encre pour modifier l'ordre des encres.
Repère le plus sombre : Définit l'encre la plus sombre dans la liste des encres actuelles (nouvelle phrase) Ceci est utilisé pour définir la couleur à utiliser par tout repère spécifique pour un contraste maximal.
Convertir en CMJN : Appuyez sur l'icône Convertir en CMJN en bas de la palette du Gestionnaire d'encre pour convertir une couleur d'accompagnement sélectionnée en CMJN.
Convertir toutes les couleurs d'accompagnement en CMJN : Utilisez la fonction Convertir toutes les encres de couleurs d'accompagnement en CMJN depuis le menu déroulant dans le coin en haut à droite du Gestionnaire d'encre pour convertir toutes les encres d'accompagnement du document.
Convertir en : Fait correspondre un lien avec un autre lien.
Livre d'encre Prinergy : Fournit des bibliothèques PANTONE couchées et non couchées et la bibliothèque de couleur DIC.
Masquer : La case à cocher Masquer vous permet d'extraire sélectivement des canaux CMJN individuels ou des encres d'accompagnement se trouvant sous un objet en surimpression.
Fonctions Mélange d'encres
Vous permet d'ajuster les encres composantes et les pourcentages d'encres d'un objet sélectionné. Vous permet de créer des combinaisons de couleurs contenant à la fois des encres CMJN et des encres d'accompagnement (N couleur). Le mélange d'encres est pris en charge pour les aplats et les objets dégradés, mais pas pour les images.

Ajouter à l'Échantillon et à l'Échantillon de mélange d'encres : Les outils Prinergy vous permettent d'enregistrer une encre mélangée à la palette Échantillon de mélange d'encres pour une utilisation ultérieure.
Fonctions mappage de canal d'image
Vous permet de faire correspondre un canal d'encre à un autre dans une image intégrée sans avoir à ouvrir et à modifier l'image dans PhotoShop.

Lorsque vous sélectionnez une image intégrée, ses canaux d'encre seront répertoriés dans la boîte de dialogue Mappage de canal d'image après avoir mis à jour la liste des encres.

Supprimer un canal d'encre spécifique dans une image intégrée.
Limites Gestionnaire d'encre
Le gestionnaire d'encre ne peut pas lire les encres RVB.
Le gestionnaire d'encre ne peut pas lire les encres des objets masqués / des couches masquées ou des objets sur des couches non imprimées.
Les encres d'accompagnement dans les images ne peuvent pas être converties en encres de traitement.
Le texte comportant plusieurs couleurs, les effets spéciaux et les images liées n'est pas pris en charge par la conversion d'encre
Les objets à effets spéciaux en 3D peuvent avoir des canaux d'encre associés à 0 %.
Les ombrages, les groupes de peinture de dynamique, les données des images, les objets à effet spéciaux en 3D ne sont pas pris en charge par les conversions de l'encre d'accompagnement.
La fonction « Conserver l'encre d'accompagnement dans le mélange » ne prend en charge actuellement que les objets au mélange simple, c'est-à-dire les objets mélangés formés de deux blocs de couleur avec un seul remplissage ou un seul trait pour chaque objet. Il n'est pas possible d'appliquer la fonction à d'autres types d'objets de mélange compliqués comme les objets mélangés.
Pour le mélange d'encre, si la multi apparence existe pour la même encre, l'encre du haut sera lue.

Le mélange d'encre ne prend en charge que les objets sélectionnés à l'aide de l'outil Sélection ou Sélection directe.

Les images DCS ne peuvent pas être intégrées à un fichier Illustrator, elles ne sont donc pas prises en charge par le mappage de canal d'image.
Sv translation
La Herramienta de tinta tiene tres funciones principales:
Administrador de tintas
Mezcla de tinta
Asignación del canal de imágenes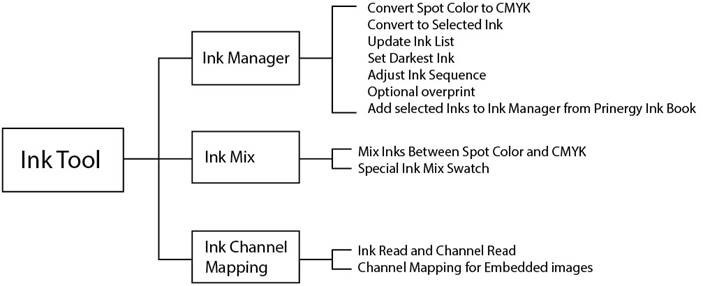 Funciones del Administrador de tintas
Actualizar lista de tintas

El Administrador de tintas muestra el orden de secuencia de color, el nombre de tinta, el tipo de tinta y el estado de enmascaramiento que se utilizan para el solapamiento.

Pulse el icono Actualizar lista de tintas en la parte inferior del cuadro de diálogo Administrador de tintas para leer y mostrar todas las tintas del documento actual, así como hacer que estén disponibles como recurso para otras funciones de Prinergy Tools, como Secuencia de color de solapamiento, Marcas, Mezcla de tinta y Asignación del canal de imágenes.

Secuencia de tinta automática: Define automáticamente la secuencia de tintas de la más clara a la más oscura o de la más oscura a la más clara, en función del valor de densidad neutra del color, y determina cómo se solapan las tintas normales entre sí (de la más clara a la más oscura). Los operadores también pueden ajustar la secuencia de tinta seleccionando un color o utilizando las flechas hacia arriba o hacia abajo en la paleta Administrador de tintas para cambiar el orden de las tintas.
Marca más oscura: Define la tinta más oscura de la lista de tintas actual (nueva frase). Esto resulta útil para configurar el color que utilizarán las marcas específicas para el máximo contraste.
Convertir a CMYK: Pulse el icono Convertir a CMYK en la parte inferior de la paleta Administrador de tintas para convertir un color plano seleccionado a CMYK.
Convertir todos los colores planos a CMYK: Utilice Convertir todos los colores planos a CMYK en el menú desplegable de la esquina superior derecha del Administrador de tintas para convertir todas las tintas planas del documento.
Convertir a: Asigne un vínculo a otro vínculo.
Libro de tinta de Prinergy: Proporciona bibliotecas de PANTONE Coated y Uncoated y la biblioteca de colores DIC.
Enmascarar: La casilla de verificación Enmascarar le permite enmascarar de forma selectiva canales CMYK o tintas planas individuales desde la parte inferior de un objeto de sobreimpresión.
Funciones de Mezcla de tinta
Le permite ajustar las tintas componentes y los porcentajes de tinta de un objeto seleccionado. Le permite crear colores combinados que contienen tintas CMYK o planas (N-Color). Mezcla de tinta es compatible con objetos de color liso y gradiente, pero no con imágenes.

Añadir a muestra y Muestra de mezcla de tinta: Prinergy Tools le permite guardar una tinta mezclada en la paleta Muestra de mezcla de tinta para usarla en el futuro.
Funciones de Asignación del canal de imágenes
Le permite asignar un canal de tinta a otro en una imagen incrustada, sin tener que abrir y editar la imagen en PhotoShop.

Al seleccionar una imagen incrustada, sus canales de tinta aparecerán en el cuadro de diálogo Asignación del canal de imágenes después de actualizar la lista de tintas.

Elimine un canal de tinta específico en una imagen incrustada.
Limitaciones del Administrador de tintas
El Administrador de tintas no puede leer tintas RGB.
El Administrador de tintas no puede leer las tintas de objetos o capas ocultas, u objetos de capas no imprimibles.
Las tintas planas de imágenes no se pueden convertir en tintas de proceso.
El texto multicolor, los efectos especiales y las imágenes vinculadas no son compatibles con la conversión de tinta.
Los objetos con efectos especiales en 3D pueden tener canales de tinta asignados al 0 %.
Los objetos de malla, grupos de pintura interactiva, datos de imagen y efectos especiales en 3D no son compatibles con las conversiones de tintas planas.
Actualmente, la función "Mantener tinta plana en mezcla" solo es compatible con objetos de mezcla simples; es decir, objetos de mezcla formados por dos bloques de color con solo un relleno cada uno o con solo un trazo cada uno. La función no se puede aplicar a otros tipos de objetos de mezcla complicados como objetos de mezcla.
Para Mezcla de tinta, si existe apariencia múltiple en la misma tinta, se leerá la tinta superior.

Mezcla de tinta solo es compatible con objetos seleccionados con la herramienta Selección o Selección directa.

La imagen DCS no se puede incrustar en un archivo de Illustrator, por lo que no es compatible con asignación del canal de imágenes.
Sv translation
油墨工具有三个主要功能:
油墨管理器
油墨混合
图像通道映射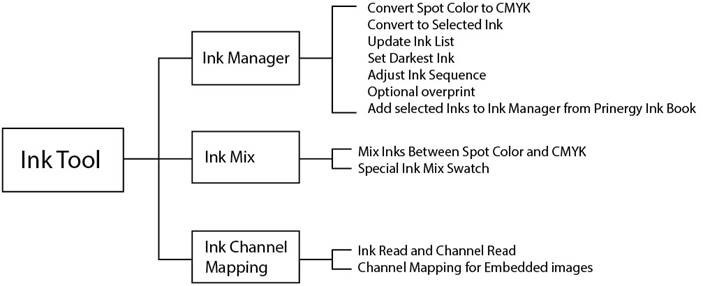 油墨管理器功能
更新油墨列表

"油墨管理器"会显示颜色序列、油墨名称以及陷印所用的油墨类型和镂空状态。

按下"油墨管理器"对话框底部的"更新油墨列表"图标可读取和显示当前文档中的所有油墨,并使它们可作为其他印能捷工具功能的资源使用,如陷印颜色序列、标记、油墨混合和图像通道映射。

自动油墨序列:根据颜色的中性密度值,自动定义从最亮到最暗或从最暗到最亮的油墨顺序,并确定常规油墨如何相互陷印(从最亮到最暗)。操作员也可以通过选择颜色并使用"油墨管理器"托盘中的"向上"或"向下"箭头更改油墨顺序来调整油墨顺序。
最暗标记:定义当前油墨列表中的最暗油墨(新语句)。这可有效地用于设置特定标记要使用的颜色,以实现最大对比度。
转换为 CMYK:按"油墨管理器"托盘底部的"转换为 CMYK"图标,将选定的专色转换为 CMYK。
将所有专色转换为 CMYK:使用"油墨管理器"右上角下拉菜单中的"将所有专色油墨转换为 CMYK"可转换文档中的所有专色油墨。
转换为:将一个链接映射至另一个链接。
印能捷油墨簿:提供 PANTONE 有涂层和无涂层库和 DIC 颜色库。
镂空:"镂空"复选框允许您有选择地从叠印对象下方镂空单个 CMYK 通道或专色油墨。
油墨混合功能
允许您调整选定对象的组件油墨和油墨百分比。允许您创建包含 CMYK 和专色油墨(N 色)的组合颜色。底色和渐变对象支持油墨混合,但图像不支持。

添加到色板和混墨色板:印能捷工具允许您将混合的油墨保存到混墨色板托盘,以供将来使用。
图像通道映射功能
允许您将一个油墨通道映射到嵌入式图像中的另一个油墨通道,且无需在 PhotoShop 中打开和编辑图像。

当您选择某个嵌入式图像时,其油墨通道将在更新油墨列表后列在"图像通道映射"对话框中。

删除嵌入式图像中的特定油墨通道。
油墨管理器限制
油墨管理器无法读取 RGB 油墨。
油墨管理器无法读取隐藏对象/隐藏层的油墨或位于非打印层上的对象的油墨。
图像中的专色油墨不能转换为印刷油墨。
不支持多色文本、特殊效果和链接图像的油墨转换
3D 特殊效果对象可将油墨通道映射至 0%。
专色油墨转换不支持网格、实时绘画组、图像数据、3D 特殊效果对象。
"在混合中保留专色油墨"功能当前仅支持简单的混合对象,即由两个色块形成的混合对象(每个色块只有一个填充,或每个色块只有一个描边)。此功能不能用于其他类型的复杂混合对象,如混合对象。
对于油墨混合而言,如果同一种油墨存在多种外观,则将读取顶部油墨。

油墨混合仅支持使用"选择"或"直接选择"工具选择的对象。

DCS 图像无法嵌入 Illustrator 文件,因此在图像通道映射中不受支持。