Sv translation
Pages are rotated as a unit, not individually. If either Auto clockwise or Auto counterclockwise is selected in the Orientation box in the Layout section of all output process templates, pages are rotated as a unit if rotating produces a better fit.
In this example the Orientation box is set to Auto clockwise.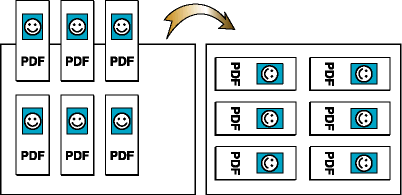 Sv translation
Les pages pivotent en bloc et non pas individuellement. Lorsque Rotation horaire automatique ou Rotation anti-horaire automatique est sélectionné dans le champ Orientation de la section Mise en page de tous les modèles de processus de sortie, les pages pivotent en bloc si la rotation produit de meilleurs résultats.
Dans l'exemple ci-dessus, la valeur du champ Orientationest définie sur Rotation horaire automatique.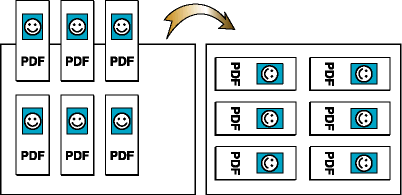 Sv translation
页面将作为一个整体而不是单独旋转。 如果在所有输出处理模板的版式部分的方向框中选择了自动顺时针或自动逆时针,若旋转得到的结果更适合,页面会作为一个整体旋转。
在上例中,方向框设为自动顺时针方向。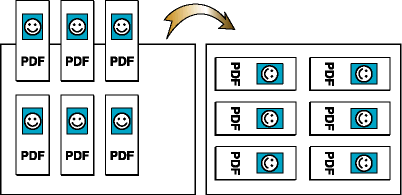 Sv translation
Die Seiten werden insgesamt und nicht einzeln gedreht. Ist entweder Automatisch im Uhrzeigersinn oder Automatisch gegen den Uhrzeigersinn im Feld Ausrichtung im Bereich Layout aller Ausgabe-Prozessvorlagen ausgewählt, werden die Seiten insgesamt gedreht, falls die Drehung eine bessere Einpassung ergibt.
Im diesem Beispiel ist das Feld Ausrichtung auf Automatisch im Uhrzeigersinn gesetzt.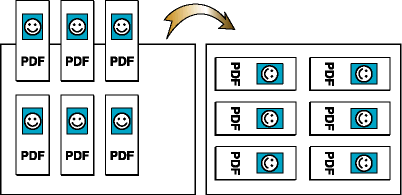 Sv translation
ページごとではなく、グループとして回転します。 すべての出力プロセス テンプレートのレイアウトセクションの方向ボックスで、自動時計回りまたは自動反時計回りのどちらかを選択すると、回転したほうが良いと判断された場合にページをグループとして回転します。
この例では、方向ボックスは自動時計回りに設定されています。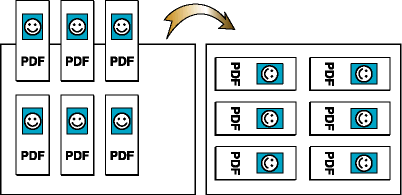 Sv translation
Las páginas se rotan como una unidad, no individualmente. Si se selecciona Hacia la derecha automático o Hacia la izquierda automático en el cuadro Orientación de la sección Diseño de todas las plantillas de proceso de salida, las páginas se girarán como una unidad, en caso de que la rotación produzca un mejor resultado.
En el ejemplo que se muestra arriba, el cuadro Orientación está definido como Hacia la derecha automático.